Federal Reserve urges 'Patience' Over Rate Rise
The United States Central Bank, The Federal Reserve (The Fed), has said it will be 'patient' over a potential rate rise which sees a slight change in tone from previous announcements where it has said it would keep interest rates low for a "considerable time."
Central banks often speak in a guarded manner and this shift in tone suggests that the bank is now considering raising interest rates sooner rather than later with many analysts speculating on a rate rise coming in the middle of 2015.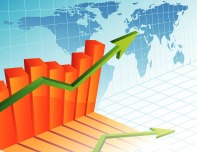 When the 2008 financial crisis hit, the Federal reserve lowered its short term interest rates in the US economy to 0% and have kept it there ever since. With an economic upturn emerging and the country getting back on its feet the Federal Reserve recently brought to an end its programme of quantitive easing and many have posited that the interest rates will soon be on the rise again. Investors have poured money into stocks in order to make a profit from this level of interest.
With the United States' economy growing and unemployment falling, these conditions would usually lead to higher inflation and an increase in the cost of borrowing but several factors have prevented this. Political instability globally, in Russia and the Middle East, and the slowdown of key trading partners and other economies, such as China and the European Union, has dampened optimism and undermined the confidence of whether American growth can persist.
With oil prices also falling, the impact on other goods and services has been to see their prices drop off as well meaning that a rate rise is not immediately necessary.
The Federal Reserve chairman, Janet Yellen, explained that "patient" meant the bank was unlikely to raise rates for "at least a couple of meetings" and if to be taken literally that would mean a rate rise wouldn't come until at least April next year. Ms Yellen said in her statement:
"We expect to be able to normalise policy but until those conditions have lifted, that have held back economic activity, monetary policy will need to stay accommodative. So in that sense perhaps that's equivalent to saying that the path of normalisation is anticipated to be relatively gradual but again the path of rates will depend on how economic conditions actually evolve."
US stock markets surged on this announcement with the Dow Jones rising nearly 300 points.
To find out more about immigration into America email us at [email protected] or if you're considering incorporating a company go to https://www.startanamericancompany.com/