US Economy Grows Faster than Expected
The US economy grew much faster than originally thought in third quarter as it expanded at an annual rate of rate of 3.9% between July and September over the 3.5% that was originally posted by the Bureau of Economic Analysis.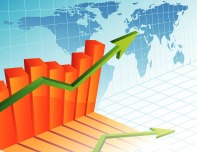 The rise comes after a strong second quarter for the country and means that America has now seen its strongest two consecutive quarters of growth for a decade with increased consumer spending being the biggest driver behind the rise with it growing by 2.2% rather than the 1.8% first estimated. With consumer spending accounting for 70% of America's Gross Domestic Product (GDP) it is a valuable asset to the economy.
The United States had a sluggish start to the year, economically speaking, when it was hit by heavy snow that affected manufacturing and retail quite badly but since then it has lurched forward with great alacrity and seems to be picking up with real pace. Dan Greenhaus, chief strategist at BTIG, said:
"The question of whether the economy is accelerating or will accelerate is no longer a question; we can say somewhat definitively that the economy has already accelerated,"
This revision has come to a surprise to many, including economists, as there had been some bleak speculation of late. Paul Dales, a Capital Economics economist, said:
"Most people were expecting a downward revision so this was a real surprise."
With the US federal reserve recently ending its stimulus package, which involved a quantitative easing (QE) stimulus programme of buying financial assets and creating new money to pay for them, this is great news for the economy as it continues to grow without this and at an excellent rate at that. This has however led to increased speculation that the Federal Reserve could increase raise interest rates which have sat at 0% since the start of the financial crisis, in March of next year. At the end of October, the US Federal Reserve said it would not raise interest rates for a "considerable time".
House prices have also seen a rise as of late which is a boost to another major sector of the US economy. The closely-watched S&P/Case Shiller index jumped 4.9% year-on-year showing that house prices had risen by more than was expected in the month of September.
"With the economy looking better than a year ago, the housing outlook for 2015 is stable to slightly better," said David Blitzer, chairman of the index committee at S&P Dow Jones Indices.
To find out more about immigration into America email us at [email protected] or if you're considering incorporating a company go to https://startanamericancompany.com/