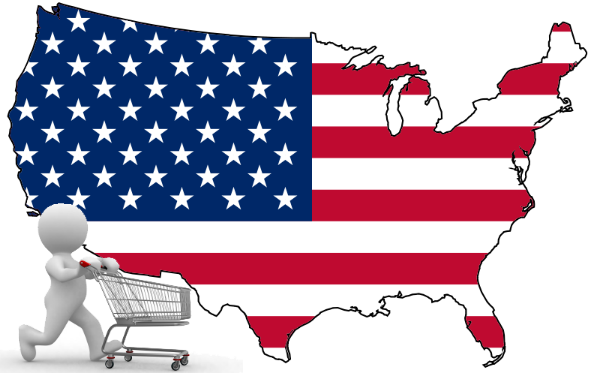 The e-commerce industry has exploded in recent years, with more consumers than ever turning to online shopping for almost everything. Whether it's technology, fashion, or simply our weekly groceries, almost anything can now be purchased online. Valued at $360.3 billion, the e-commerce industry is set to double over the next three years, increasing to $603.4 billion dollars by 2021.
After ruling the world of e-commerce for more than a decade, the United States is currently the second largest e-commerce country in the world, recently falling behind China. Led by the e-commerce giants Amazons & eBay, the country observes a healthy e-commerce growth in all sectors, and has been a hotbed for a variety of new e-commerce technologies and trends.
However with popularity and success comes competition; and in an increasingly aggressive market, companies frequently need to diversify and grow in order to thrive. For businesses that have found success in their respective domestic markets, the logical progression is often to expand products or services to new audiences overseas.
The various opportunities available from cross-border e-commerce are expected to be a key driver of growth for online retailers over the coming years, but the key question for many expanding business is where to locate your business and operations.
Location, Location, Location
While many industries rely on a metropolitan hub for client interaction and regular meetings, e-commerce organisations are not always bound by the same geographic restrictions. Instead, with the opportunity to conduct the day to day running of a business from almost anywhere, the primary consideration is often one of storage, and warehousing.
The steady growth of online shopping has led to strong demand for e-commerce fulfilment centres in populated urban locations, which are often located close to shipping ports in order to easily store overseas imports. However this increase in demand has led to an increase of rental costs, leading a number of e-commerce companies to consider alternative options throughout rural America.
In the 2nd quarter of 2018, the national average for industrial rent was $6.11 per square foot: $4.54 in the Midwest, $4.75 in the south, $5.74 in the Northeast, and $9.28 in the West. Considering the average industrial rent in Nashville is $4.77 per square foot, as opposed to $9.84 in Los Angeles, the cost of storing products can vary significantly throughout the country.
However the affordability of warehouse storage shouldn't be the only consideration. As consumers become accustomed to speedy deliveries, many within two days of purchase, goods may need to be positioned relatively close to urban areas. Truck driver shortages, the mandated use of electronic logging devices and fuel costs can all influence the price and efficiency of your delivery service, and the location of your warehouse facilities will need to take this into consideration.
For e-commerce businesses that have the freedom to locate both operations and logistics away from the expense of coastal hotspots, rural America certainly has its appeal. And with 8 out of 10 cities with the fastest internet speeds located inland, in states such as Colorado and Texas, connectivity shouldn't be an issue.
Understanding the cost of deliveries
While urban warehouse storage options have seen a surge in demand, the e-commerce market has also flourished throughout the rural consumer base. With online stores proving a wider choice of products than many local stores, often at cheaper prices, residents throughout rural America have easy access to a variety of big city conveniences.
While it's important to consider rural consumers, delivering products to these low population areas isn't without its challenges. In some cases, retailers have reported a significant profit loss by having to regularly drive as far as 50 miles to deliver a single package, and in some cases, items can even cost more to deliver than they retail for. For example, in Oklahoma, delivering a container of laundry detergent that has a retail price of $10.99, costs $12.25 to deliver to a remote town like Magnum.
Depending on your target audience and the service you offer, limiting your e-commerce deliveries to urban areas may not always be a realistic option, however it is possible to manage these challenges. t may be sensible to increase shipping costs in areas that regularly affect profit margins, or implement a minimum order value for free shipping on your website. Delivering items in bulk could also lessen the burden, while still providing customers with the sought-after free delivery.
Taking advantage of Amazon
Amazon is already ubiquitous within the world of e-commerce, and it seems like it's only a matter of time before the industry giant becomes synonymous with this type of trading entirely.. In the United States specifically, Amazon has led to the bulk of the growth of e-commerce in recent years. Just last year, the value of Amazon transactions was a staggering $189.61 million.
With speed and one-day delivery becoming an increasingly important tool in the e-commerce industry, many businesses are taking advantage of the Fulfilment by Amazon system (FBA). Simply put, FBA stores your items in Amazon's fulfilment warehouses around the country, before delivering them to your customers using the customer's preferred shipping method.
The main advantage for e-commerce businesses in using this method is it provides your customers with Amazon's free one-day delivery service throughout the entire country, while offering an attractive options for SBEs that may not have the resources or inclination to rent warehouse and storage space in multiple parts of the country.
Your tax responsibilities when selling in The United States
Understanding the various nuances of tax requirements in the United States isn't always easy, and it's often advisable to seek specialist advice, but there are three key points to consider when tackling sales tax:
Sales tax is governed at the state level
45 states and the city of Washington D.C have a sales tax
Every state enforces different sales tax laws and regulations
With this in mind, and considering e-commerce businesses are almost always going to be selling across state borders, thorough research or professional advice is advisable when tackling your tax obligations within the USA.
Overall, despite the significant opportunities, the United States shouldn't necessarily be viewed as one single market. Understanding the cultural or regional differences, economics, consumer behaviour and even political landscape, will all play a large role in determining where you should locate your business, and which markets offer the largest opportunities.
For more information on starting or expanding your e-commerce business, or for detailed consultation on the various tax considerations, please get in touch, we'd be happy to help.